Design Verification Testing
At NAI, after new products are released from our engineering department, they undergo a comprehensive series of tests performed by our design verification test team. This team conducts a rigorous battery of tests, including electrical performance verification testing to design specifications, as well as environmental and qualification testing.
We are committed to ensuring that every product we produce meets the highest standards of quality, reliability, and performance. That's why our design verification test team works tirelessly to thoroughly test every new product, leaving no stone unturned in the pursuit of excellence.
Environmental Stress Screening (Temperature)
At NAI, we are proud to offer on-site temperature Environmental Stress Screening (ESS) capabilities. Our temperature ESS capabilities cover a wide range of products, from card level and small footprint NIU units to large, ruggedized embedded systems. Our design verification testing includes temperature cycling from -40° C to +85° C and electrical performance testing at the extremes. All conduction-cooled products are tested to specified temperature ranges to accommodate customer-specified production deliveries.
Environmental Stress Screening (Vibration)
At NAI, we offer on-site vibration ESS capabilities to ensure that our products can withstand the most rigorous environmental conditions. Our vibration screening can be performed on all three axes, and our units can be instrumented and monitored during testing with data capture (or run passively with no power).
Our vibration test systems are computer-controlled and can be programmed to simulate a wide range of vibration scenarios tailored to meet our customers' requirements. We are committed to providing products that can perform reliably in even the harshest environments.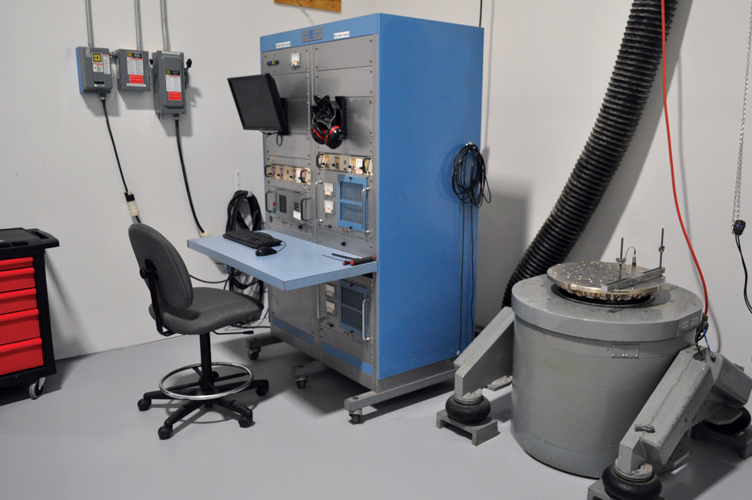 Qualification Testing
NAI has extensive environmental and EMI qualification capabilities, which include temperature, vibration (sine & random), shock, humidity, and conducted emissions. We are committed to providing our customers with products that are tested to the most rigorous standards, and our on-site testing capabilities allow us to ensure that every product meets our exacting quality standards.
In addition to our on-site capabilities, we also supplement our testing with local test laboratories for specialized testing. This allows us to provide our customers with even more comprehensive testing capabilities, including altitude, temperature-altitude, contaminant protection, explosive atmosphere, MIL-STD-461 EMI, and lightning testing.
Final Production Testing
NAI offers a diverse range of products, from low-volume/high-mix to high-volume production runs, tested with internally designed multi-unit gang testers and an automated test software suite. This suite is continuously updated and refined to keep up with our customers' evolving needs, allowing us to maximize throughput without sacrificing test coverage or product quality. Our advanced final production testing capabilities encompass every facet, from design verification and product qualification to environmental testing, EMI qualification, and vibration screening.