68DT1
3U OpenVPX Multichannel Discrete I/O Board
The 68DT1 is a 3U OpenVPX™ board featuring up to 96-Channels of Standard Functionality (SF) DT1 module-type or Enhanced Functionality (EF) DT4 module-type Discrete I/O functions [foptioned, factory configurable].48-Channels are dedicated as input (voltage or contact sensing with programmable, pull-up/pull-down current sources). An additional 24 or 48-Channels are programmable for either input or output (current source, sink, or push-pull) switching up to 500 mA per channel from an applied 3 – 60 V external VCC source (or sink to ISO-GND). The 68DT1 can sense broken input connections and whether an input is shorted to +VCC or to ground. Additional features of the DT4 EF are listed below. The 68DT1 offers unparalleled programming flexibility, a wide range of operating characteristics, and a unique design that eliminates the need for pull-up resistors or mechanical jumpers.
Features
3U OpenVPX Profiles: MOD3-PER-1U-16.3.3-2, SLT3-PER-1U-14.3.3
PCIe (x1)
1x 10/100/1000 Base-T Ethernet
IMPC (option): VITA 46.11 Tier-2 compatible
Commercial or rugged applications
Operating temp: Commercial: 0 ºC to +70 ºC, Rugged: -40 ºC to +85 ºC
Conduction or air-cooled options: VITA 46/48/65 compliant, 4H, 0.8" Pitch
Power / Weight: 5V @ 1.5A (max.) (external Vcc not included), 1.25 lbs. (est.)
48-Ch. programmable for: Input: voltage or contact sensing
24-Ch. or 48-Ch. programmable for: Input: voltage or contact sensing, Output: current source, sink or push-pull (per cannel/bank)
Application features and support: Current share, by connecting multiple channels in parallel, Handle high inrush current loads (for example, two #327 incandescent lamps in parallel), Dual channel "turn-on" (series channel output) applications (e.g. dual series "key" missile launch control), Ability to sense broken input connection and if input is shorted to +Vcc or to ground, Ability to read I/O voltage and output current (indicates if load is connected) 
10 µs input timing resolution
Programmable input debounce circuitry (filter) with selectable time delay; eliminates false signals resulting from input relay contact bounce
Continuousd Built-In-Test (BIT)
Intelligent I/O library support included
(Optional) Enhanced (EF) Mode Operations: Input: Pulse Measurements, Transition Timestamps, Transition Counters, Period Measurement and Frequency Measurement, Output: PWM Output and Pattern Generator Output
Accelerate Your Time-to-Mission™ With COSA®
Visit COSA Page
NAI's Configurable Open Systems Architecture™ (COSA®) offers a choice of over 70 smart I/O, communication, and Ethernet switch functions, providing the highest packaging density and greatest flexibility of any multifunction I/O board in the industry. Preexisting, fully-tested functions can be combined quickly and easily in an unlimited number of ways. Each I/O function has dedicated processing, unburdening the system Single Board Computer (SBC) from unnecessary data management overhead.
Related COSA® Products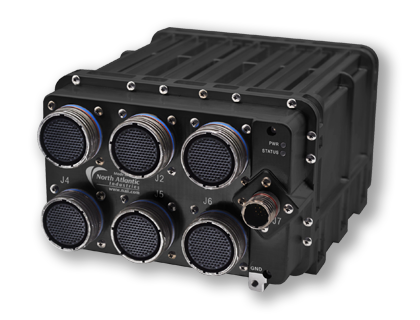 Sensor Interface Units
Can't find what you're looking for?
North Atlantic's resource center is where you will find information on warranty and repairs, details of our Product Lifecycle Management and Configuration Management programs – and much more.
Visit Resource Center