RDC-31CP0B
Remote Data Concentrator - 3U 1-Slot
Application Ready 3U Remote Data Concentrator
The RDC-31CP0B is a preconfigured, rugged system with a high-performance, low power ARM® Cortex®-A9 processor. It is ideally suited to support a multitude of data concentration applications that require high-density, multichannel, programmable communications consisting of: ARINC 429/575; CANBus (CAN 2.0 A&B or J1939); RS-232/422/485 Serial Communications and Dual-Port Gig-E Ethernet.
NAIs RDC-31CP0B is designed to consolidate inputs from military aircraft systems and sensors and distribute them via a full duplex switched Ethernet network. Since these systems host the avionics and utilities functions, several boxes and hundreds of pounds of cable can be eliminated.
Remote Data Concentrators (RDC) often serve as the central nervous system of a military aircraft and are a perfect fit for a number of mil-aero applications including fixed-wing, rotorcraft and unmanned aerial vehicle (UAV) platforms.
The RDC-31CP0B seamlessly integrates with the same field-proven backplane technology as the standard open architecture systems.
Software
Software support includes VxWorks® and Xilinx® PetaLinux. All I/O and communications library Software Support Kits (SSKs) are supplied free of charge.
Features
Meets or exceeds MIL-STD-461F and MIL-STD-810G requirements
VxWorks®, Xilinx® PetaLinux OS
Continuous Background Built-In-Test (BIT)
< 5 lbs. typical
COTS/NDI
COSA® architecture
SWaP-optimized
Accelerate Your Time-to-Mission™ With COSA®
Visit COSA Page
NAI's Configurable Open Systems Architecture™ (COSA®) offers a choice of over 70 smart I/O, communication, and Ethernet switch functions, providing the highest package density and greatest flexibility of any multifunction I/O board in the industry. Preexisting, fully-tested functions can be combined quickly and easily in an unlimited number of ways. Choose the ideal platform for your application below. Each I/O function has dedicated processing, unburdening the system Single Board Computer (SBC) from unnecessary data management overhead.
Related COSA® Products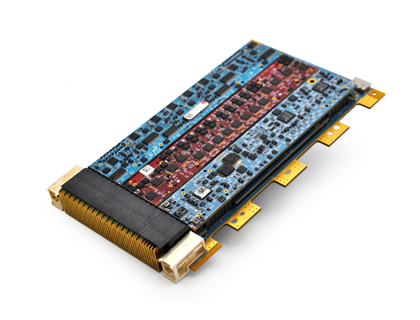 Multifunction I/O Boards
Single Board Computers
High Density I/O Boards
Just How Configurable Are NAI's COTS Systems?
Need more or less configurations than the RDC-31CP0B? Choose from NAI's standard COTS configurable systems that you can populate with pre-integrated boards, smart function modules, power supplies and software libraries of your choice.
Model
Dimensions w/ Connectors
(w x h x d)
Weight / lbs.
(Fully populated)
Function Module
Slots
Board Slots
Board Formats
NIU1A
6.8" x 1.6" x 2.5"
< 1.2
1
N/A
Integrated System
NIU2A
7.2" x 2.7" x 3.0"
< 2.7
2
N/A
Integrated System
NIU3A
7.2" x 3.2" x 5.5"
< 5.4
3
N/A
Integrated System
NIU3E
7.2" x 3.2" x 7.1"
< 7.7
1
N/A
Integrated System
SIU31
4.7"x 2.4" x 8.8"
< 5.9
3
1
cPCI
SIU32S
5.9" x 4.5" x 9.5"
< 11.5
6
2
OpenVPX
SIU33
4.7" x 4.8" x 8.8"
< 10.6
9
3
cPCI
SIU34
5.7" x 5.8" x 9.4"
< 15.1
12
4
OpenVPX
SIU35
7.2" x 4.8" x 8.7"
< 16.0
15
5
cPCI
SIU36
Conduction Cooled: 9.0" x 5.0" x 9.5"
Convetion/Air Cooled: 9.0" x 6.4" x 9.5"
Conduction Cooled: < 21.3
Convection/Air Cooled: < 22.5
18
6
OpenVPX
Can't find what you're looking for?
North Atlantic's resource center is where you will find information on warranty and repairs, details of our Product Lifecycle Management and Configuration Management programs – and much more.
Visit Resource Center