CD1
6 Chip Detection and Burn Channels
The CD1 provides 6 Chip Detect and Fuzz Burn interface(s). A Chip Detector (CD) is a magnetic-electrical device that provides a reliable method of detecting impending failure of bearings and gears.
The CD1 is intended to be used as a maintenance time gauge or flag risk of imminent mechanical subsystem failure. As ferrous metallic particles are attracted to the sensor and begin to bridge the gap between the two contacts, the chip sensor circuit detect resistance drops.
The CD1 continuously measures the sensor gap resistance and when the sensor gap resistance falls below the programmable FAULT resistance threshold, the Fuzz Burn charge circuit is triggered (programmable, up to 10x attempts) to 'burn-off' normal and typical amounts of metallic sludge (fuzz).
Features
Operating Features: The CD1 provides enhanced and tailored operating parameters. Chip Detect Programable Resistance Thresholds: Provides a universal interface to most industry chip detector sensors. Controlled Charge for Fuzz Burn: Impervious to main generator power fluctuations. Once a discharge determine rate is defined for a particular sensor, a known and consistent charge can be programmed and provided for the fuzz burn (regardless of normal range main generator MIL-STD-704 power supply fluctuations). Automatic Fuzz Burn System Operation: In the automatic fuzz burn mode, any sensor resistance measurement below the programmed FAULT threshold will automatically generate the programmable fuzz burn discharges. Auto fuzz burn reduces or eliminates nuisance spurious chip detect indications. Full contained and Continuous Built-In-Test (CBIT), including fuzz burn discharge path.
Feature Summary: Chip Detect (CD) Circuit: 6 Channels, independent, isolated CD measurement circuits, Repeatable sensor resistance/gap measurement: ±5% resistance tolerance, Three programmable sensor resistance detect thresholds: OPEN, WARN, FAULT, Open sensor connections are detected and reported. Fuzz Burn (FB) Circuit: Programmable FB capacitor charge: SEPIC converter for known and repeatable charge delivery (tolerates and ignores input voltage fluctuations) Automatic FB Charge/Discharge: Triggers on R < FAULT, Programmable Fuzz Burn-off attempts (up to 10x), Status capture on # of attempts, Software trigger (manual control), Standard NAI COSA Smart Function: Up to 6 CD/FB channels, Independent, Channel Configuration: Programmable for interfacing with different sensor types (parameters) , Isolated Measurement Channels: Mitigates false trigger, MIL-STD-704 Power Tolerant: Programmable FB charge is independent of input voltage, Built-In-Test (BIT)
Channels: 6 chip detection and burn channels
Input A/D R Accuracy: ±5% FS, repeatable
Digital R Output: Integer
Input A/D R Range: 0 to 100k ohms (maximum) / Internal input impendence is 100k ohms.
Input A/D R Thresholds: Three programmable; 0 < (1.) FAULT < (2.) WARN < (3.) OPEN (ohms)
BIT (Built-In-Test): Continuous background 'online' accuracy, OPEN detection capability.
Programmable Charge: 0.25 – 2.25 Joules (±10% of setting)
Capacitor Bank A/D V-Charge: ±10%
FB A/D Voltage: ±10%
FB Trigger: Up to 10x, programmable (default is 3x)
FB Discharge Inhibit: Discharge inhibited if measured R ≥ 1kΩ
Power: +5 VDC @ 680 mA typ. (Estimated, TBD)
Input Vin (+28 VIN): Per MIL-STD-704 (full operating range & transients)
Ground: Independent channels; isolated from system ground
Weight: 1.5 oz. (42 g)
ESD Protection: Designed to meet the testing requirements of IEC 801-2 Level 2. (4 kV transient with a peak current of 7.5 A and a Tc of approximately 60 ns)
Accelerate Your Time-to-Mission™ With COSA®
Visit COSA Page
NAI's Configurable Open Systems Architecture™ (COSA®) offers a choice of over 70 smart I/O, communication, and Ethernet switch functions, providing the highest package density and greatest flexibility of any multifunction I/O board in the industry. Preexisting, fully-tested functions can be combined quickly and easily in an unlimited number of ways. Choose the ideal platform for your application below. Each I/O function has dedicated processing, unburdening the system Single Board Computer (SBC) from unnecessary data management overhead.
Related COSA® Products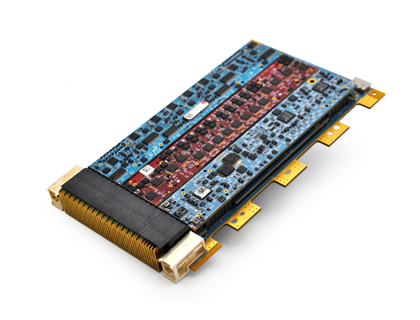 Multifunction I/O Boards
Single Board Computers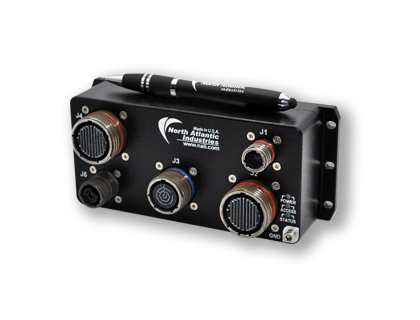 Nano Interface Units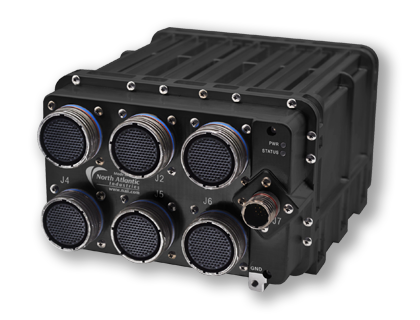 Sensor Interface Units
Can't find what you're looking for?
North Atlantic's resource center is where you will find information on warranty and repairs, details of our Product Lifecycle Management and Configuration Management programs – and much more.
Visit Resource Center